SPIN Compliance Solutions is the premier hands-on HIPAA, MACRA/MIPS, OSHA, Stark Law, and Anti-Kickback Statute Compliance Training Company serving medical practices in the continental US. We have been passionately saving physicians from compliance penalties since 2018. Our mission is simple... Take the time and frustration out of keeping your practice compliant so you can focus on your patients and practice.
If you want to take the frustration out of keeping your practice compliant then you won't find an easier solution. Our hands-on compliance training and security audits provided by our exceptionally trained staff make it possible for you to focus on your practice. Contact us now so we can take the headache out of keeping you compliant today.
HOW TO COMPLY WITH THE STARK LAW:
The federal self-referral prohibition (42 USC 1395nn), commonly called the "Stark law," is one of numerous fraud and abuse laws that apply to physicians and limits the type of business a physician can enter.  The information contained in this website is provided for informational purposes only and should not be construed as legal advice on any matter.
The Stark law prohibits a physician's referral for certain designated healthcare services (DHS) to an entity if the physician (or a member of the physician's immediate family) has a financial relationship with the entity, unless the referral is protected by one or more exceptions provided in the law.
DHS means any of the following services (other than those provided as emergency physician services furnished outside of the U.S.):
Clinical laboratory services.
Physical therapy, occupational therapy, and outpatient speech-language pathology services.
Radiology and certain other imaging services.
Radiation therapy services and supplies.
Durable medical equipment and supplies.
Parenteral and enteral nutrients, equipment, and supplies.
Prosthetics, orthotics, and prosthetic devices and supplies.
Home health services.
Outpatient prescription drugs.
Inpatient and outpatient hospital services.
We specialize in HIPAA, MIPS, OSHA, Medicare/Medicaid Audits, and more. View our services and see how we can help your medical practice today.
Our program offers cost-effective solutions to organizations so you can avoid HIPAA audits and monetary fines. Call Us Today!
Providing The Best Hands-On STARK LAW Compliance Training Programs To Medical Practices in St. Louis, MO., Atlanta, GA., Houston, TX., Philadelphia, PA., Hershey, PA., Oklahoma City, OK., Reno, NV., Orlando, FL., Detroit, MI., Orange County, CA and the continental United States.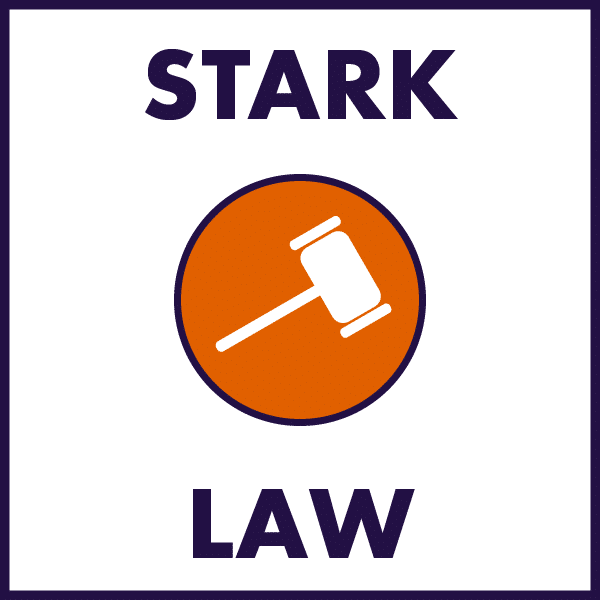 The Stark law defines financial relationships to generally include ownership/investment interests and compensation arrangements between a physician (or a member of the physician's immediate family) and an entity that furnishes DHS. Such arrangements and the associated financial relationships may be either direct or indirect. Understanding the nature of the financial relationship at issue is critical because it determines what, if any, Stark law exceptions are available.
The Stark law is a strict liability statute, which means proof of specific intent to violate the law is not required.
Sanctions for violations of the Stark law include the following:
Denial of payment – Medicare is prohibited from paying for DHS furnished pursuant to a prohibited referral.
Refund of payment – Any entity that collects payment for a DHS furnished pursuant to a prohibited referral must timely refund all collected amounts
Imposition of civil monetary penalties
Exclusion from federal healthcare programs — Physicians and entities that violate the Stark law can be excluded from participating in the Medicare and Medicaid programs.
There are several exceptions to the Stark Law requirements.  Each one has its own requirements and should be reviewed with an attorney before a practice, or physician, enter into any agreement.  Those exceptions are:
Physician Services
In-Office Ancillary Services
Services Furnished by an Organization to Enrollees
Clinical Laboratory Services Furnished in an Ambulatory Surgical Center, or End-Stage Renal Disease Facility, or by Hospice
Academic Medical Centers
Implants in Ambulatory Surgery Centers
EPO and Other Dialysis-Related Outpatient Prescription Drugs Furnished in or by an End-Stage Renal Disease Facility
Preventive Screening Tests, Immunizations, and Vaccines
Eyeglasses and Contact Lenses Following Cataract Surgery
No Knowledge of Prohibited Referral
Electronic Prescribing Items and Services Electronic Health Records
Exceptions to the Meaning of "Compensation Arrangement"
Non-monetary Compensation Up to $300
Fair Market Value Compensation
Medical Staff Incidental Benefits
Risk Sharing Arrangements
Compliance Training
Indirect Compensation Arrangements